Introduction

Salient Features

Benefits

Unique Advantages

Modules

Clients

Features
Your Companion in Transformation from
Document Management Made Easy
We help businesses of all sizes become more efficient with their document storage, scanning, document outsourcing demands With a wealth of experience and a reputation for excellent customer service, we offer a fully integrated end-to-end solution for both digital and paper based documents – making document management a more simplified and cost effective process.From highly secure document storage and scanning facilities, to digital document retrieval, data capture of your records, TSL offers a solution for every single organisation.
Innovative and Efficient Services
Since our inception, we have worked with a range of customers, including government agencies, blue-chip enterprises and a number of small to large businesses based across India.
Our customers choose us because we reduce their costs, improve business efficiency and provide excellent customer service at all times.
Alongside our wealth of experience, we also deliver innovation in document storage, business processing, scanning, document lifecycle management and many other areas.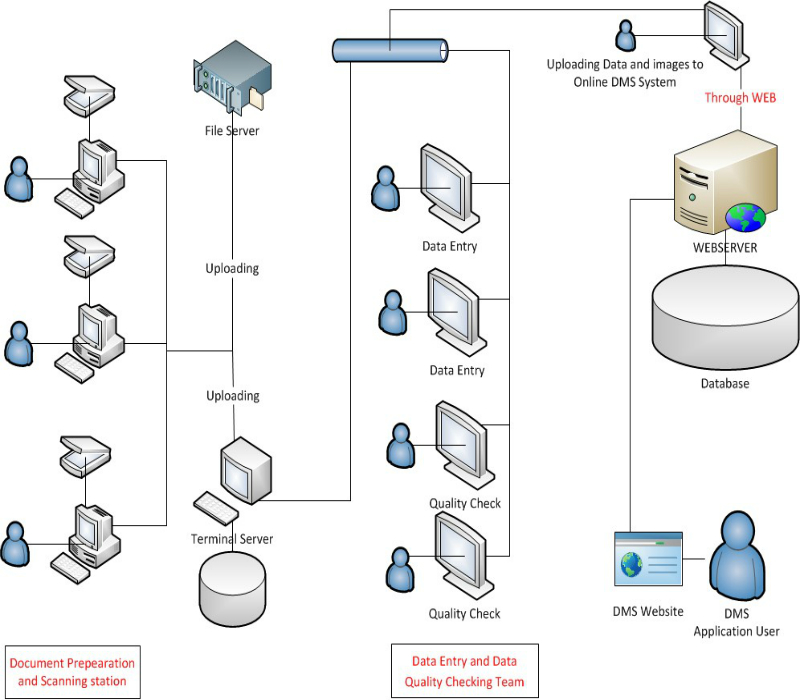 COMPLETE PACKAGE TO MANAGE YOUR DOCUMENTS (Software / Hardware / Services)
Our Approach
Based on Our Experience :
Our Personnel Set up Includes the following
Scanning cum document preparation operators
Data Entry Operators/QC Operators
Hardware Engineers
Software Programmer
Project Leader
| Profile | Experience | Educational Qualification | Function |
| --- | --- | --- | --- |
| Scanning cum document preparation operators | 1 to 2 yrs | Under Graduate/Graduate | (Preparation Of document)Destapling / Ironing etc |
| Data Entry Operators/QC Operators | 1 to 2 yrs | Under Graduate/Graduate | Indexing / Data entry / QC |
| Hardware Engineers | 2 to 4 yrs | MCSA /CCNA | Service for the maintenance of TSL's Hardware Setup |
| Software Programmer | 1 to 3 yrs | MCA/B.Sc(IT) / BE | Service for the maintenance of TSL's SRS(Storage, Retrieval system) |
| Project Leader | 2 to 4 yrs | MCA/B.Sc(IT) / BE | Project Guide/Audit |
Hardware Setup
Scanners required
Fujitsu fi 6130C
Avision Book Pro (If required for A3 – A2 )
Graphtec (if required for Maps / charts)
Epson Flat bed – WF 7511
Epson Flat bed – V33
Kodak – i2600
Bother Flat bed – DCP – J315W
Desktop systems required ( For data entry/OCR,QC,Scanning)
Intel Celeron Processor
512MB or 1 GB DDR RAM
250 GB HDD
Monitor>/li>
Keyboard/Mouse
Kodak – i2600
Bother Flat bed – DCP – J315W
1 server
HP/ IBM / Assembled
Quad Core Intel® Xeon® Processor E5420 (2.50 GHz, 1333MHz FSB, 80W)
2GB (2 x 1GB), PC2-5300 Fully Buffered DIMMs (DDR2-667)
Hard Disk – (2 x 500 GB)
LAN Details
Serial header, and PS/2* ports LAN Support Gigabit (10/100/1000 Mbits/sec) LAN subsystem
Intel® 82566DC Gigabit Ethernet Controller Peripheral Interfaces
Hard Disk – (2 x 500 GB)
Software Setup
SRS Digitizer: Document Management System with Digitization
Developed by TSL is capable of handling large amount of data and complex work flow. Features include: Scanning, Scanning QC, Indexing, Indexing QC, Retrieval, and Search through different criteria, Printing.
Software Platform:
Front end – Visual Studio (ASP.Net with VB.Net)
Back end - SQL Server 2008 R2
Tools : iTextSharp.dll (License Version to support rights for PDF/A features required by Client)
Customization: As per Client specifications.
Timelines for the project
As per Client's Discretion: The team can be placed based on Client's Deadline and Number of Documents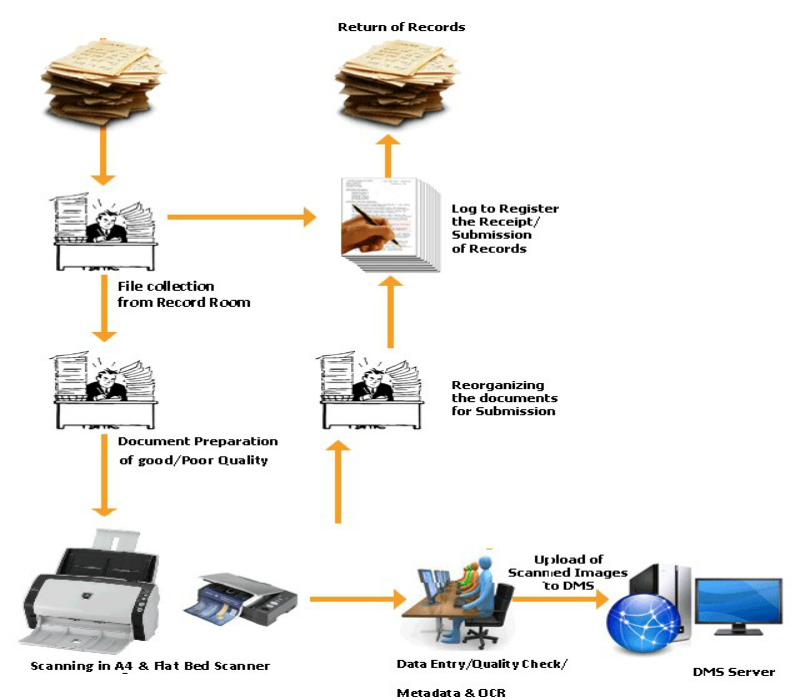 Maintenance and Technical Support
Personnel
Software programmer
Software Training Executive
Support Methodology
Onsite support
Post completion, TSL's team will train Client staff and trouble shoots the problems faced by the staff.
Online support
TSL can provide online support through secured network to Client if more personnel will be required.
E-Mail system will be setup for queries with maximum 24 hrs turn -around time.
Daily reporting system ensures the deviance from schedule to be minimum. The same will be set from the first day of job execution.
Document Preparation
Batch Creation: - Every Day document along with corresponding attachments will be kept ready by the Client Staff. Each batch will be verified for unique identification number. New Batch ID will be created. The unique number will be keyed in the SRS Digitizer.
Batches will be prepared based on the dates of documents to ensure distinction between old cases.
Preparationt
All the staples will be removed.
Tagging of documents not to be scanned will be separated (as per Client document type list)
Each appropriate document type to be scanned will have document Marker, so that it does not get mixed with the other document.
The documents are arranged and made sure that there is no fold between document pages.
The documents are sent for scanning.
The documents in the bad condition will be re typed and indexed.
The documents not required by the Client will be discarded.
Document Scanning
The pages are scanned as per the specifications .
Each scanned page is checked with the original files and compared it for difference. Image quality is also checked along with the file resolutions and format. After checking the files the document are grouped and rename according to the specification.Based on the Specification, various fields are capture or verified with the customer application forms. Care is also taken so that the fields match with the scanned document.
Document Coding
Different types of documents can be created as per Clients Requirements A unique identifier is given to each document. Data is keyed in by separator such as indexing.
The fields will be indexed as per the specification given by Client. Double Blind Verification: - Data of Each document will be verified twice and both the verifier will not be aware of this process. All this will be taken care by the software.
Document Indexing and Delivery
Log will be generated every day to make sure that the project is on schedule. Reports can be verified by the authorized person in order to keep a tab on the project. Based on the report Process fine tune will be done to keep the error at the lower end.
Random Check:- Before the uploading the images and data to the Client server, a random check will be done by the project manager to make sure that the documents are scanned and captured with 100% accuracy.
The image and the data will be uploaded to the server.
Filing of the documents is done once the Images and the Indexes are approved by the representative; the data is filed in the requisite folder and then put in the cabinet
Backup
A digitization project must include a backup plan for all the processed images and data for disaster recovery if media fails or during computer crashes. Backup is important at every stage where there is modification of images to avoid redoing previously accomplished stages.
A final backup for all the finished images must be done on durable media that allows easy access such on hard drives or DVDs. Fig. 2.0 The Backup Process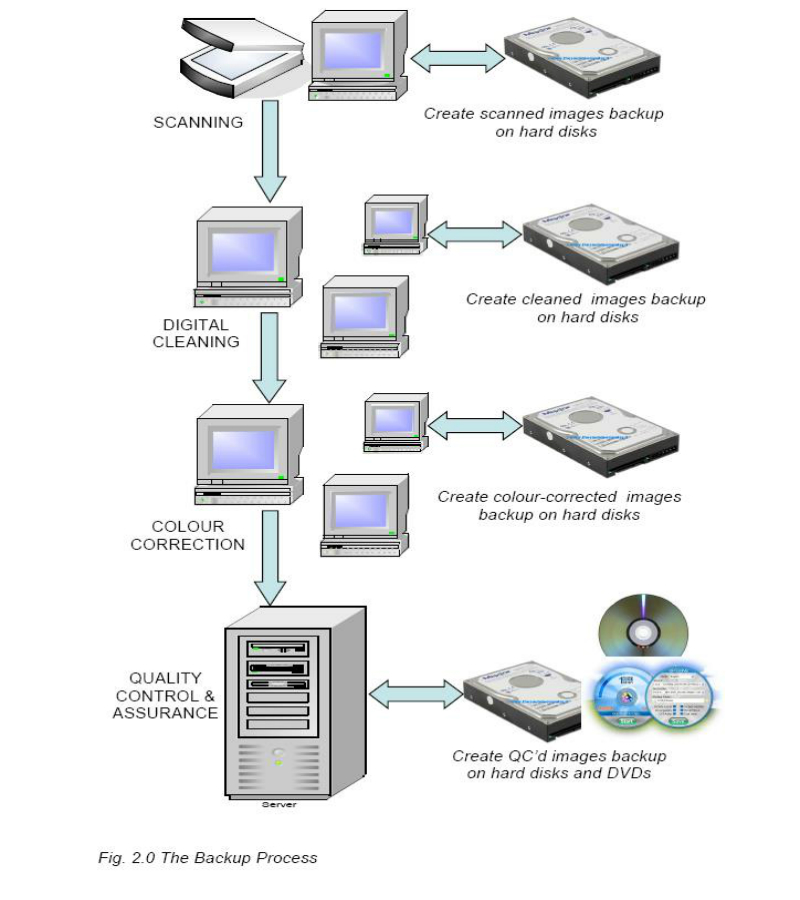 The digital documents are shipped and the files Returned, Recycled or Certified Destroyed. Once you receive and review the digital files, we can initiate our electronic file destruction procedures, which permanently delete your files from our systems. This "electronic file shredder" completely removes all traces of your files and scrubs our hard drives to ensure that no file can be restored by data recovery utilities.
Documents Availability everywhere on Cloud (SAAS Model)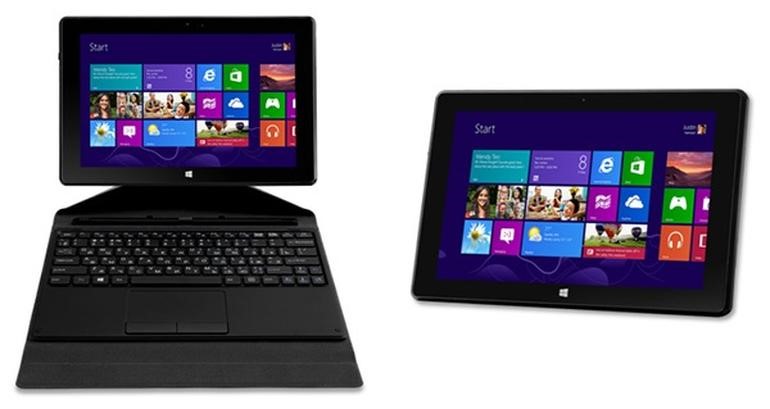 FIND: Find documents and files in seconds rather than hours.
SHARE: Allow more than one worker access to the same document at the same time.
CENTRALIZATION: Store department or workgroup documents in a central storage area.
SECURITY: Set document security for who can view and update files.
AUDIT: Verify who viewed the documents.
ARCHIVING: Set retention periods for documents, and schedule archival or removal processes.
Actively working in the field of Digitization related Solutions.
Presently executing similar nature projects.
OEM, Distributors and Reseller of all the required Infrastructure.
One Point solution provider for all Services, Hardware & Software
Enough Financial Resources for deploying any amount of hardware and Human Resources.
Pan India Presence for executing onsite projects in any part of the India.
Service and logistics support across India
Required technical manpower deployed as per the project's requirement
Experienced of Executing Bulky Turnkey Projects at Multiple Locations in India
Maintain the Confidentiality of the Data
DOMAIN ADAPTABILITY
Telecom Operators

Customer Application Forms
Credentials Indexing
Healthcare and Related tertiary sectors
Patient Medical Records
Insurance Related documents
Banks
Account Holders Credentials
Loans and Insurance Papers
Corporate
Legal Documents Management
Contracts and Agreements
Purchase and Sales Management.
Employee Details
Land Deeds / Mergers / Acquisitions
Govt. related documents
Government Institutions
Media Houses and Advertising Agencies
Legal Firms
ASSESSMENT
Presented below are the factors marked by TSL, mentioning its capability and confidence to handle digitization job
| S.No | Factor | Skill | Rating on a scale of 1-10 |
| --- | --- | --- | --- |
| 1 | Understanding | TSL has adaptability to understand and deliver as per client's specifications. This can be decided by various projects of varied requirements done by TSL. | 8 |
| 2 | Digitization Set Up | TSL has been managing the large setup for fast deliveries and has proved its efficiency in quality and man management to execute the jobs on time. | 9 |
| 3 | Hardware set up | TSL has proven its mettle as a system integrator by managing clientele of more than 2000 which is growing year after year. | 8 |
| 4 | Software Service | TSL has managed its software division with an umbrella of different skill set efficient engineers who can handle and adapt to different technologies and domains with ease. And equally equipped team if implementation and support makes it an easy task to execute even complex projects | 7 |
| 5 | Coordination | TSL has been managing international and national clients .This has been made successful by coordination between client, onsite team and offsite support. | 8 |
| 6 | Timelines | TSL has delivered 90% of its projects on time. It is believed that same dedication is needed from client's side to execute any project on time.. | 8 |
| 7 | Cost | TSL is confident of giving cost effective services without any compromise on quality of work. | 9 |
Cost-effective operation: With us, you save virtually on everything - from per line charges and low capital costs to maintenance and space .
Customized turnaround time: 24,18,12 and even 6 hour TAT .
Security and accessibility of your data: We use SSL technology (128-bit encryption), where your files are password protected to ensure complete confidentiality. Additionally, we offer access to your files anytime, from anywhere.
Choice of dictation: Dictate the way you want, Toll-free dictation,Hand-held recorder or Interface with the present system.
Quality is always high in our service business. We maintain quality standards for the services we offer through trained quality operation staff, standardized procedure set meeting ISO and an experienced outsourcing management team.
Our responsiveness, flexibility, and ability to create a new process to solve a client's problem. We view ourselves as our clients' business partner and they ours – in many cases our client's have outsourced their entire data entry function to us making Thymus an integral part of their ongoing operations.
We have invested in state-of-the-art high-end scanning equipment. We are pleased to offer a top quality - and top value - scanning service. TSL accepts digitization of all different types of documents [A0 / A2 / A3 / A4 / Legdres /maps / Legal sized papers].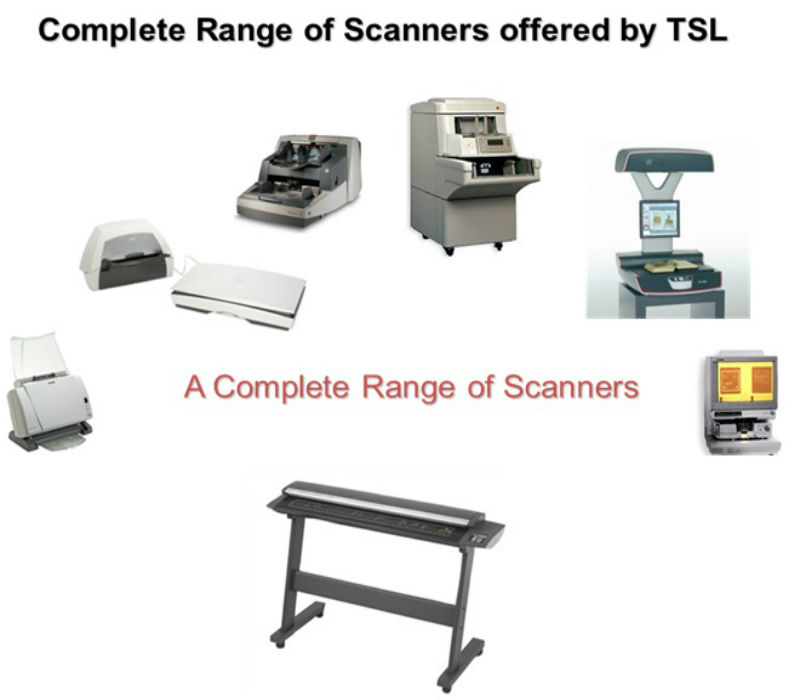 Document Management System with workflow:
TSL caters to various clients with different documents, parameters and work flows with web based work flow and client server based indexing facility which synchronization
DocuCare :Web Based Document Management System : Takes care of document storage , indexing , search , document flow, document access rights
Digitizer :Client Server based TSL Digitizer : Takes care of Bulk scanning to convert Bulk Paper Records to Computerized Records.
Upload Tool:Upload documents from one system to another system , if required.
Docucare

User, Roles & Security:

This module will help us in creating user for this system. Admin can do the registration of user from HR department. Roles and privileges setting for accessing each modules of the system will be administrated in this section.

Sub division of modules:

Role Creation/Modification
User Creation/Modification
User Permission Settings
Role Permission settings
User hierarchy definition

Administration Module:

This module will help the administrator to create Department, Users, and Document Access Rights. Document Identifiers Creation department wise or project wise with access rights to users

Document Search:

Document Search facility based on user access rights and document identifiers. Bulk document search and download.

Document Trail:

User wise document access and document wise user access.

MIS:

Can be given as per the needs Other reports for backend like User Wise Activity Report, User Log.

Utilities:

Bulk Upload Email to the users if required.

Client Server based TSL Digitizer Modules

Parameterization
Scanning
Indexing
Quality Check
MIS
Image Optimization

Upload Tool
DMS comprises of the following features:

Batch wise scanning
Dynamic Tagging field creation
Scanning station
Multilingual Tagging/indexing of Images
Online and offline Searching
File Manager
Exporting
Uploading
Reports
Security

Batch Processing:

All the documents are grouped into batches.
Batch will be given Unique id, that will be maintained through out the application.
User can be allotted based on batches
Report will be generated based on user wise and batch wise.

Tag/Index Field Creation:

Add or Remove tag/index at any point of time during the process.
Supports indexing fields like Textbox, Multiline textbox, Combo Box, Date Picker, Masked edit, picture box, check box, sub-Tagging fields.
Language: Hindi, Marathi, Gujarati, Tamil…
Validation: Character, Alpha Numeric, Fixed/variable number, Phone number, Pin code, Email address etc…
Mandatory field.
Compare field.
Default value.
Importing optional values from excel sheet for ease of data entry.
Indexing fields can be applied to all the batches or to specific batches

Scan Station:

Scans the image using ADF and Flat bed.
Ability to use multiple scanners.
No need to use external application.
Set dpi, color mode, compression, auto rotate, cropping, auto de-skew etc.
Using twain functionality for performance.
Drag and drop facility.
Duplex and Simplex scanning using shortcut
Image optimization to avoid rescanning at any point of time.
Read Barcodes.
Add Remarks on Scanned Image
Qc done on the Scanned Images
Auto color, Zooming, Magnifier, De speckle, Switch color mode.
OCR Application for converting to field
Zooming user selected portion of image for quick data indexing

Indexing of Images:

Provides UI for Indexing
Reads Barcodes / OCR
Image Capturing / Switch to batches at any time
Works based on Access rights / Image Zooming and scrolling using shortcuts
Validation Message at every Field focus.
Indexed Batches goes to qc automatically.

Data Entry:
Image Enhancement Tools:

Auto De-Skew
De-speckle
Cropping ( with and without saving)
Cleaning
Brightness
Contrast
Sharpening
Erase Selection
Noise Removal
Blank Page detection and removal
Bar code reading
Auto splitting of continuous pages
Auto rotating
Conversion to black and white

Storage:

Storage of Images to folder with required name
Single or multiple page files

Export:
Searching:

Provides Offline and online searching facility
Searching based on indexed fields
List the mapped files and open it in the same window for ease of use and comparing it.
Provides conditional searching in online.
Printing and Watermarks can be added based on rights provided
Different combinations can be applied for search
E.g. Documents can be searched on the basis of LH No. , Admission No. , OT No. , ICD Codes etc.
The searching can be enhanced based on the tags decided.

Data Uploading:
File Manager:

Shows Files in the batches with size, file type, resolution, time of creation and no of image inside it.
Export images on any of the indexed field.
Compress Images and export
Upload to any server
Works under authorization.
Printing and Watermarks can be added based on rights provided

Security:

User Restriction /Activity Restriction.
Image and Data is stored in password protected database.
Access Rights to each and every form

Storage:

Storage of Images to folder with required name.
Single or multiple page files.

Report Batch Wise:
Bulk Document Upload Utility from Client Server PC to DMS Server:

Uploads the documents to secured environment in encrypted format.

Online Search Application with user management and parameterized indexing:

This Application hosted in web Server and can be accessible for everyone
Access rights specification for different types of User
Create Indexing field searching documents
Encrypted document in web server.
Security features like unauthorized access, download and print.
Page 1: Login Page

Details: Based on the user Master, the user will have access to the system.
Page 2: Department Master /Branch Master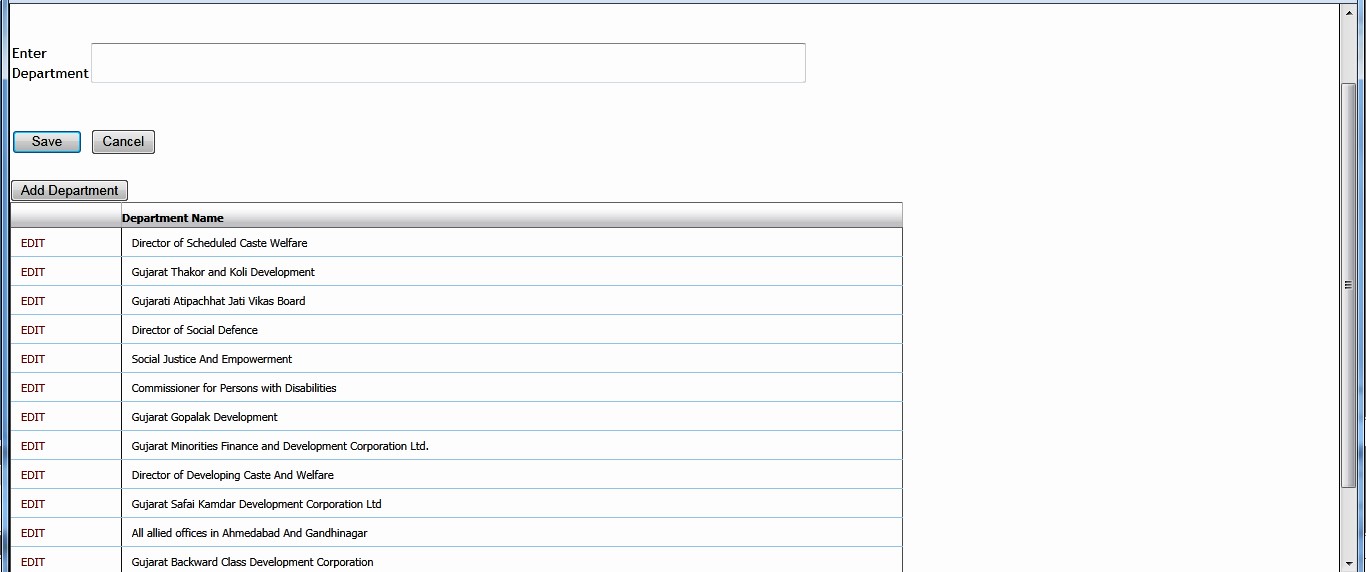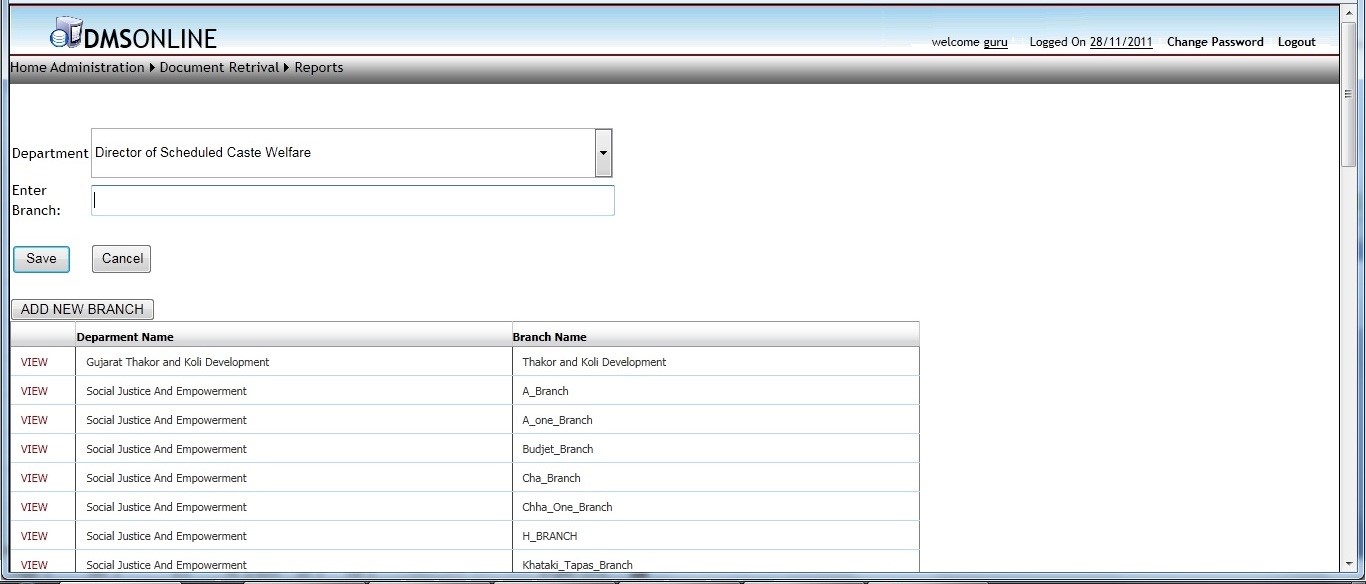 Page 3:User Master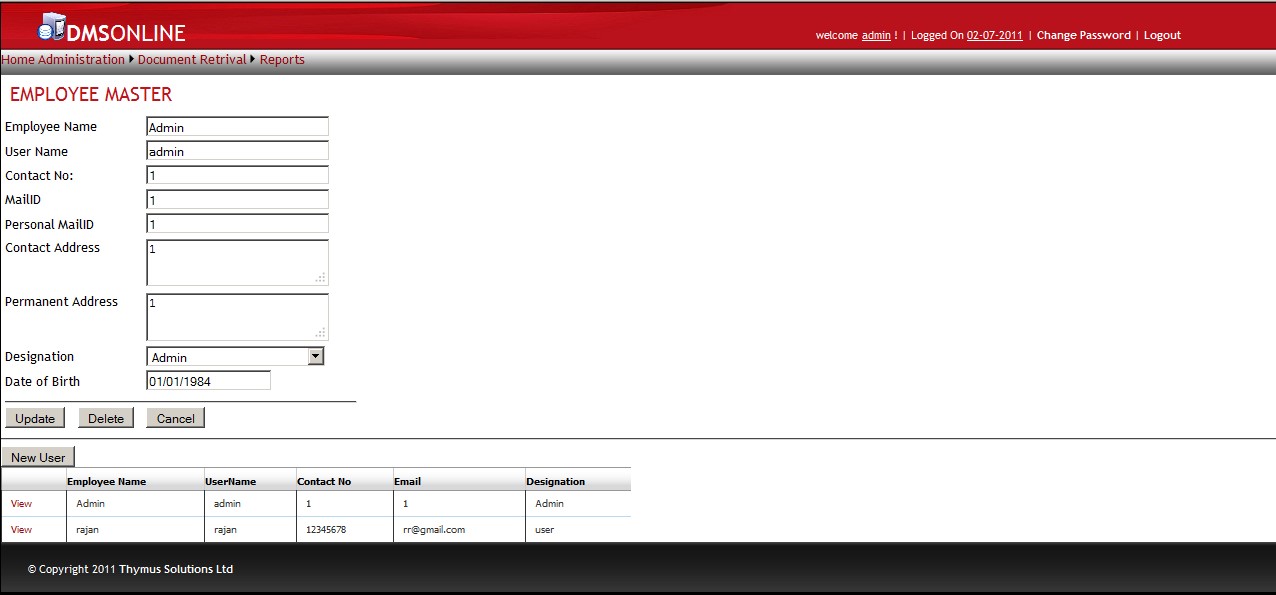 Details: Details of the user are captured in this screen with access to departments (single or multiple)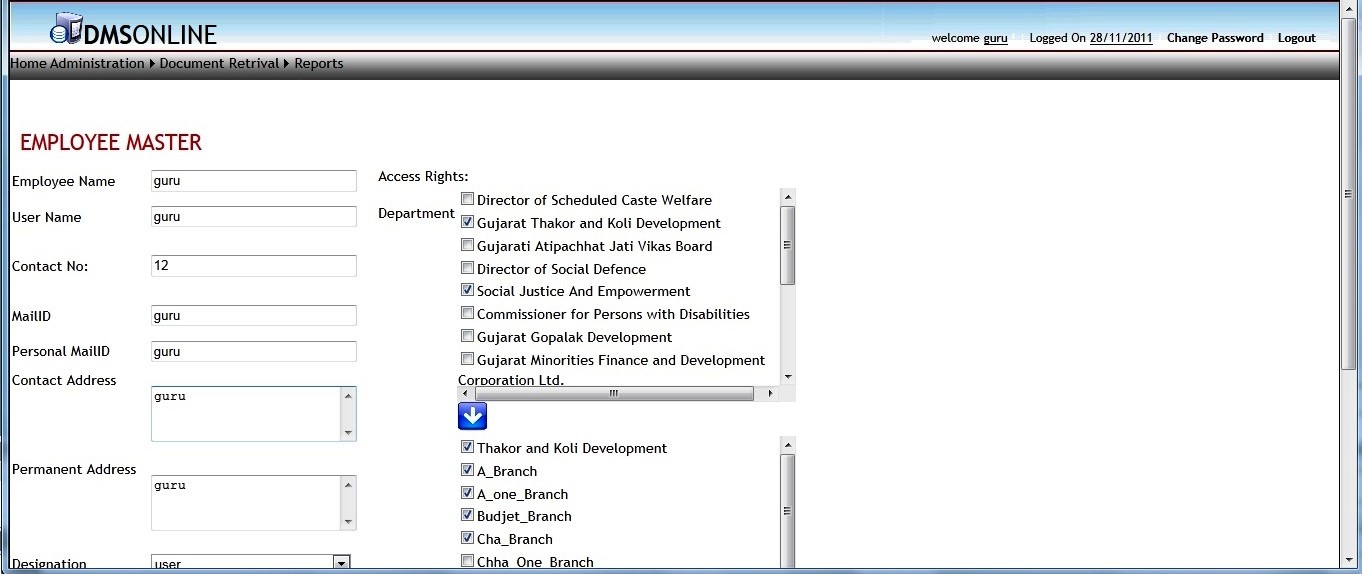 Page 3: UserRights

Details: User Access rights for View, Editing and Deleting are controlled based on the form. All the user swho are created in this application will have access to the system. But based on this screen other rights are controlled.
Page 4: Online Upload

Page 5: Index Fields (Search will be based on this fields)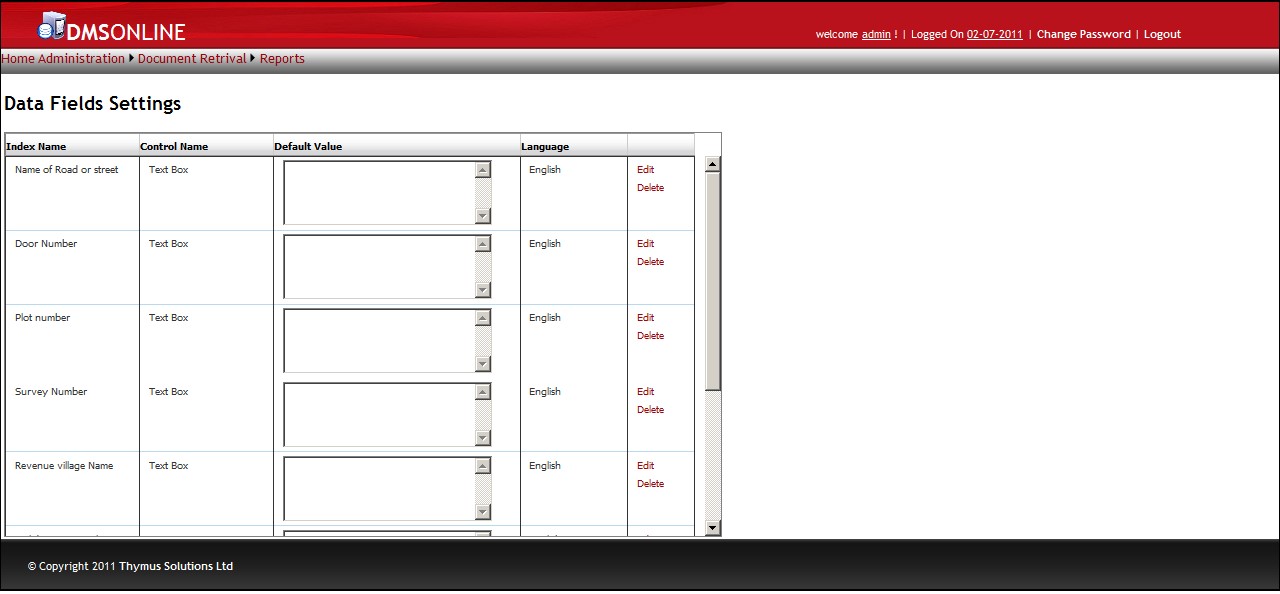 Details: Index Fields are used for searching the PDF. The index fields can be created for the entire group or for the sub groups as well (Based on entire organization same type of indexes e.g. Libraries or different types of indexes for any Manufacturing set up …Finance, Legal, Purchase, Sales etc)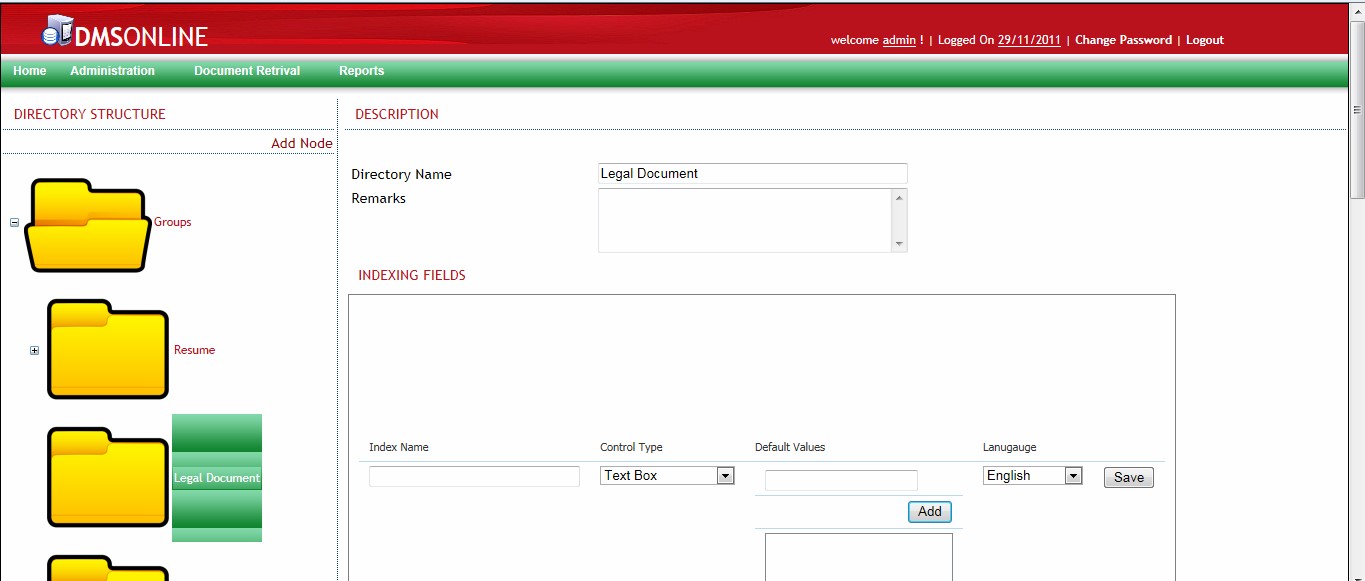 Page 4: Search PDF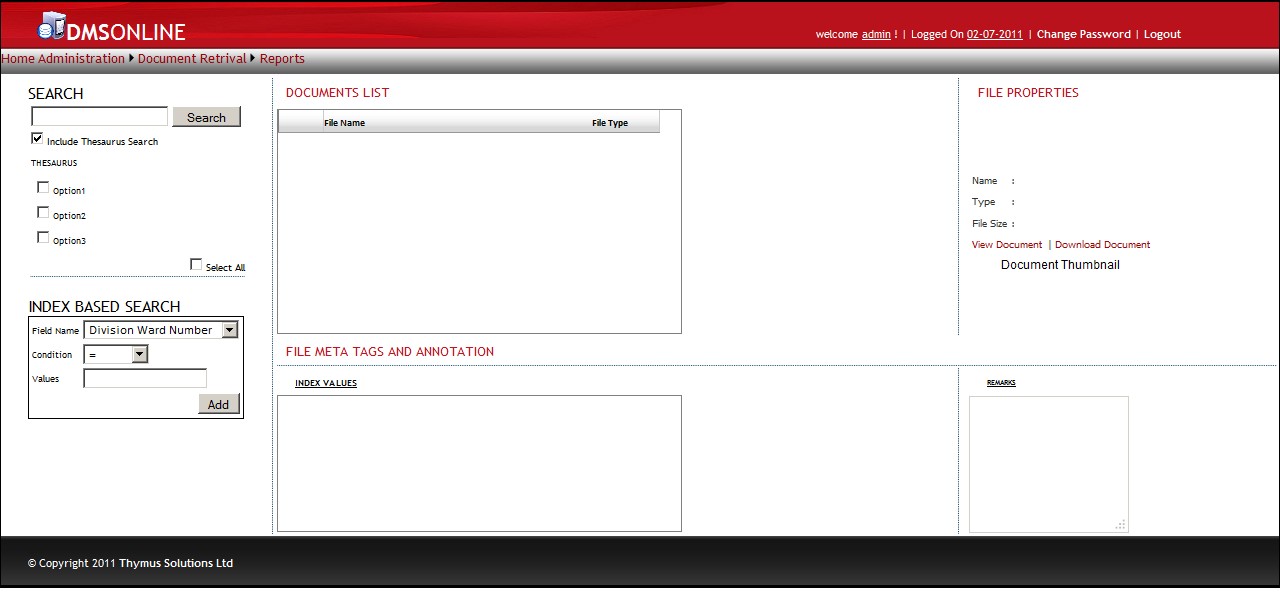 Details: There are two types of search.

1First search will search in all tables and look in all columns for matching records.
Second search is index based search. In this search, the index master which is created above will be listed. And we will be selecting any index and enter the value with some condition. This search condition can be one or many for example
After clicking on search, the matched document will be shown in the Middle portion of the page i.e in document list.
4. After selecting a document from the grid, the details of PDF from database and thumbnail of the image has to be shown as below
If we click on view document, an separate page should be opened to show entire PDF. This page should not allow right click or saving the page. This page will also contain some zoom and navigation control to view the PDF.
Scroll